"Not every breakfast needs to be something worthy of posting to a food blog. Sometimes food is simply fuel, something we eat to live. But with TV ads and billboards and in-store displays saying otherwise – in colorful and provocative ways – that can be a hard case to make". – Author: Mary DeTurris Poust
Have you been paying attention to thoughts swirling in your head: 'What should I eat for lunch?' 'Should I get on my Peloton now or later?' What about your movements – the leisurely walk on the weekend. Your choices – taking a deep breath in and out to help get through those tense days.  It's your brain – working hard for you 24/7, even while you're asleep.  This means your brain requires a constant supply of fuel. Your food choices can boost your mood, here are 3 fuel choices guaranteed to leave you feeling your best.
1. Chard
This leafy green is packed with magnesium – which can positively impact serotonin levels and boost your mood. Just 1 cup (175 grams) of cooked Swiss chard packs 38% of the RDI (recommended daily intake) of Magnesium. It's a great pairing in the morning with eggs or for dinner with your favorite protein. Heat up olive oil in a saute pan – add in garlic slices, crushed red pepper and coriander seeds.  Toss in chopped Swiss chard, cover and cook for 3-4 minutes!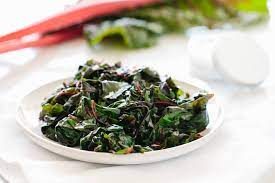 Pic by Downshiftology
2.  Blueberries
Have you ever tried blueberry salsa for your movie night snack? With a high content of antioxidants known as flavonoids, blueberries help activate brain pathways associated with better cognition and less cellular aging. Blueberries and blueberry juice are associated with having a more positive mood.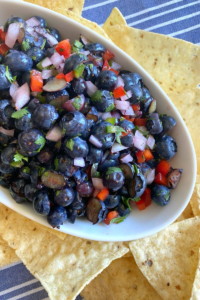 3. Dark Chocolate
How does it work? Dark chocolate stimulates the production of endorphins, which are mood-enhancing chemicals in the brain. It also contains the chemical serotonin, which acts as an antidepressant. Choose at least 70 percent cocoa, serving size = 1 ounce. Check out this tasty trail mix idea that will last you through a busy work week: 
1 package (10 ounces) dark chocolate chips

1-1/2 cups dried cranberries (about 8 ounces)

1-1/2 cups sliced almonds

1 cup raisins

1 cup coarsely chopped walnuts

1/2 cup pistachios