By Claire Gallo, Positivity Charge Food Expert
Yes.  You heard me. Cauliflower.
Ever since I was in high school, my mom and I have always done our holiday baking together. We bake dozens of cookies for family members. We also like to test out new recipes to make for Christmas dinner.  This year we added this delicious rice pudding. So delicious in fact my mom forgot she was eating cauliflower.
"I have been thinking about making this dessert for a while. Cauliflower has been a staple in our house. I love how versatile it is. You can roast is in the oven, mash it up, or have cauliflower rice"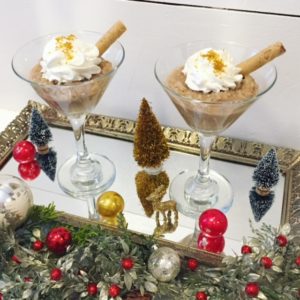 This is the first time I have ever tried to make a dessert. I was nervous that the cauliflower flavor would be overwhelming. But the spice of cinnamon and sweetness of the maple syrup really balance that. Cooking cauliflower rice is not like cooking regular rice. You don't need as much liquid and you don't have to worry about under or overcooking it. I am so happy to share this recipe with you. It's a lighter and unique take on rice pudding. You can top it with whipped cream, sprinkles, or fresh fruit. Any of these will be perfect and this dessert will be the perfect addition to your table. Your guest might not even know its cauliflower rice.
The Recipe:  Maple Cinnamon Cauliflower Rice Pudding.
Cook Time: 30 minutes plus overnight chilling
Serves: 4-6
Ingredients:
2 cups almond milk plus 3-4 tbsp.

4 cups frozen cauliflower rice

2 tbsp. cornstarch

2 tbsp. granulated sugar

2 tbsp. maple syrup

2 tsp. cinnamon

2 tsp. vanilla extract

1 tsp maple extract

½ tsp. salt

Optional toppings whipped cream, sprinkles, cinnamon sugar
In a medium saucepan add 2 cups almond milk. Heat over medium heat, about 2 minutes,  then add frozen cauliflower rice. Stir well and add remaining ingredients. Stir occasionally over medium- low heat for 20 minutes or until you reach pudding like consistency. Feel free to add more milk if needed. Remove from heat and pour into individual ramekins or wide mouth glasses. Cover and refrigerate overnight. Serve with whipped cream and topped with sprinkle.
Christmas really is my favorite time of year. I just wish it wouldn't go by so fast. I try not to get too overwhelmed. I try to stop and enjoy the holiday whenever I can.  Sitting here at home, next to tree, and sharing recipes with you is right where I want to be. Please take time to enjoy the holiday, your family, and friends. Enjoy the recipe!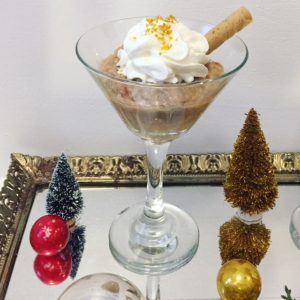 I have two traditions that I look forward to during the holidays. The first is decorating our Christmas tree. I wish everyone could see my house. I am sitting in our family room with a fire in the fireplace and I am staring at our Christmas tree. Our tree is very special. It doesn't have a theme and it's not color coordinated. From far away it looks like a normal tree. However, every ornament is from a vacation my husband and I have taken. We have ornaments from all over the country. We have ones from Seattle, New York City, and this year we added our Grand Canyon ornament. Every year when we decorate, we are reminded of the trips we took and the good times we shared. I think my favorite ornament is the cable car from San Francisco. My second favorite tradition is baking with my mom.