It was roasted spaghetti squash with brussel sprouts and tomatoes.  Let me explain…
"It feels so good to be home." These are always the first words out of my mouth whenever we get back from vacation. Even if the trip was amazing, I just love coming back feeling refreshed, ready to get back on track, and of course sleeping in my own bed. This past month my family and I started our spring break a little early went on a cruise. My husband, parents, my brother and his family went on a 5 night Royal Caribbean Cruise. I know what some of you are thinking, you went on vacation with your family? Yes, I went on vacation with my family and we all had a blast. We ate delicious food, relaxed by the pool, and danced every night. Someone in the group, not going to mention names, even sang some karaoke.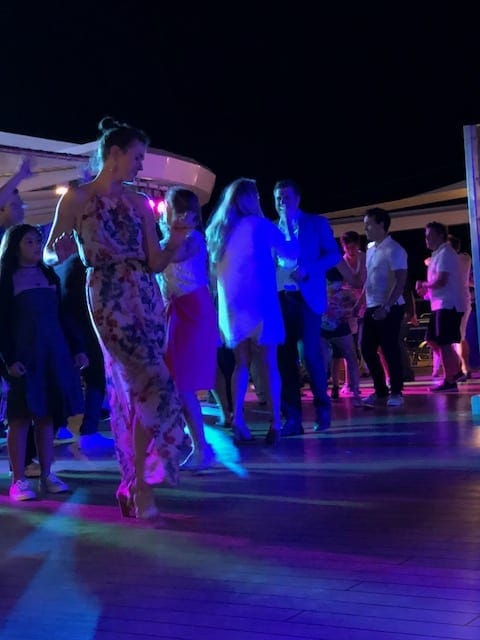 While on vacation, I did try to stick some workouts here and there. One morning my sister in-law did some much needed beach yoga. I took walks around the track with my mom, and even broke a sweat going up and down the 65 steps of the Queen's staircase. Once back home in Michigan, I felt rested and ready to hit the ground running. This recipe is the first thing I made when we got back.   We got home in the late afternoon and I really wanted was a homemade meal. We didn't have much in the house but I always keep a spaghetti squash in the pantry. They keep forever and make the perfect sized meal for two with leftovers. I felt so motivated that I began to unpack while it was roasting. This is one of my favorite recipes. The best way to describe it is healthy comfort food.  I feel so full after eating spaghetti squash but not tired like traditional pasta. The squash makes the house smell amazing and also pairs well with parmesan cheese.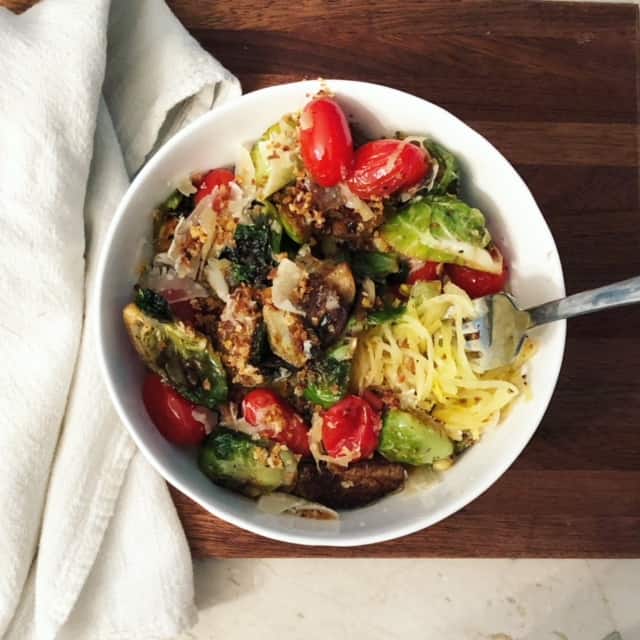 Roasted Spaghetti Squash with Brussel Sprouts and Cherry Tomatoes.
Total Time: 45 Minutes
1 spaghetti Squash
5 tbsp. olive oil
½ lb. Brussel sprouts
8 oz. cherry tomatoes
2 garlic cloves, minced
¼ cup panko bread crumbs toasted,  see note.
salt and pepper
Heat oven to 400 degrees F and slice spaghetti squash lengthwise. Scoop out and discard the seeds. Brush the inside with 2 tbsp. of olive oil and season with salt and pepper.  Place the squash flesh side down on a foil lined baking sheet. Roast spaghetti squash for 30-40 minutes until inside is tender. Meanwhile start cooking the Brussel sprouts.
Heat a large skillet with 2 tbsp. of olive oil. Cut stems off Brussel sprouts and slice in half. Add Brussel sprouts to skillet and cook for 10 minutes or until they begin to brown. Slice cherry tomatoes in half and add to skillet with Brussel sprouts along with minced garlic. Salt and pepper to taste.  Cook for an additional 10 minutes.
Once spaghetti squash is roasted, remove from oven and wait until it is cool enough to handle. Once cool, use a fork to scrape the inside into a bowl, this should resemble cooked spaghetti. Top spaghetti squash with Brussel sprouts and tomato mixture. Add toasted panko and serve immediately.
Note: for toasted panko bread crumbs mix with 1 tbsp. olive oil in mixing bowl. Heat a small pan over medium heat. Add panko to pan and cook until lightly brown.
Enjoy!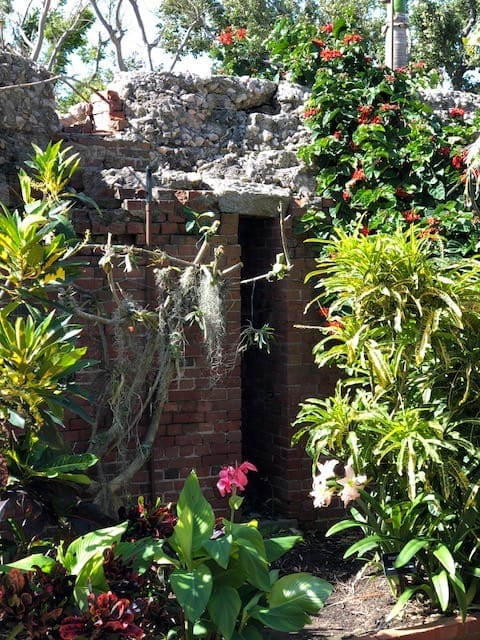 About The Author
My passion is life through food.