By Dr. Rubina Tahir, DC, co-founder of The Positivity Charge
Can you name two VERY popular hashtags that are searched on the daily? How about #eatclean and #mealprep. Whether to admire the plates of others, or get inspiration, one thing is for sure: there are so many brands on display. How many healthy brands can you possibly eat in one day? I decided to put this to the test. Here is what I ate in one day, you can pick and choose your own #eatclean #mealprep moments, and do it for the 'gram.
1. A VERY Good Morning
Plan:
Who says you can't have it all! Breakfast is the most important meal of the day, so why not start it off with a fully caffeinated sampling. I tasted all three because no caffeine, no workee!
Brand Choices:
*Saxbys: I enjoy the signature blend because of its bold flavor! I did a french press and voila, a warm option for my sampling!
*Chameleon Cold Brew: Black Coffee. A case has (10) 12 oz. bottles and for this healthy splurge, I stacked my fridge to have a cold, refreshing option on the go.
*Matcha Bar: Apple Ginger Matcha. I like to keep matcha in my weekly mix because of the antioxidant health benefits. One of the main ingredients, L-Theanine, is known to reduce mental stress, enhance your mood and performance, and create a calm-yet-alert state of mind.

*With a major caffeine buzz and Cliff bar in hand I am out the door: flavor of choice White Chocolate Macadamia.
Benefits:
This breakfast boasts high anti-oxidant vibes between the matcha, and the coffee. Add in 9 grams of protein from the Cliff bar and so far I am enjoying brands with benefits.
2. Commuting Splurge
Plan:
Depending on what your commute looks like, it can be an optimal time for a meal prep moment. Preparing a shake in the morning to bring along seemed like a fun way to incorporate some more healthy brands.
Brand Choices:
I went with Aloha Vanilla Protein Powder- 2 scoops has 18 g of plant based protein powder. Going with vanilla was an experimental choice, as that particular flavor is a deviation from my stance that all protein powder must taste like chocolate. In this case because MORE is better, adding texture with Purely Elizabeth Coconut Cashew grain free Granola was like the icing on the cake!
Benefits:
So many fluids! But so far all of these healthy options feel way better than cheat day junk food indulgence!
3. Snack Time
Plan:
Be in a superfood state of mind. This of course means chia seed pudding, and it was all about the night before prep.
Brand Choices:
Soak ½ a cup of Chosen Foods chia seeds overnight with 2 cups of Almond Breeze almond milk, ½ teaspoon Simply Organic Madagascar vanilla extract, ¼ cup Rocky Ridge maple syrup. Top with bananas the day of.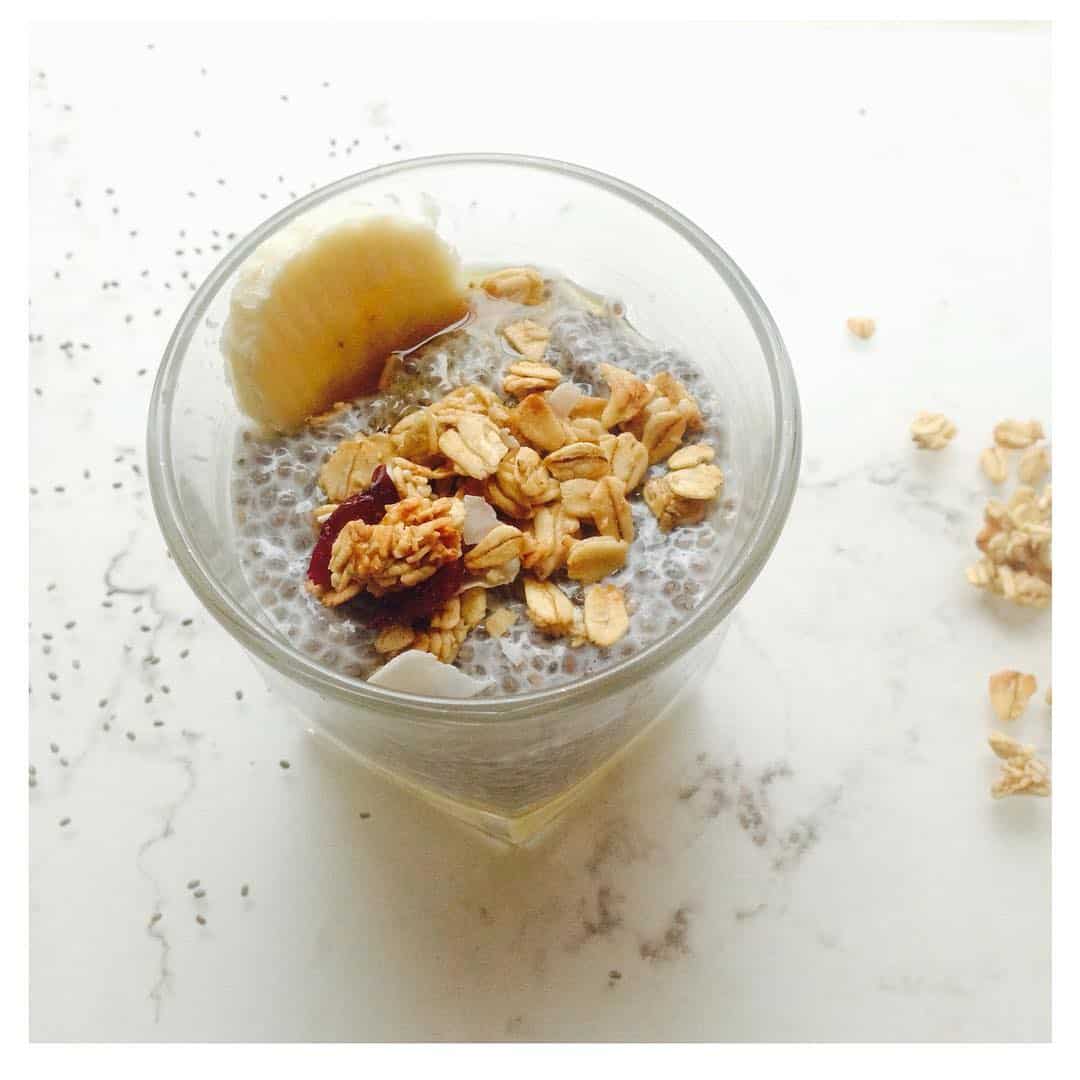 Benefits:
Chia seeds are a good source of omega-3 fatty acids, fiber, antioxidants, iron, and calcium. A 28-gram, or 1-ounce, serving of chia seeds also contains 5.6 grams of protein. Quick, refreshing, and easy to eat while answering emails.
4. The Ultimate Lunch Experience
Plan:
A personal 3 course lunch special.
Brand Choices:
A healthy take on a vanilla milkshake as an appetizer, yes please! Koia serves up an amazing plant powered vanilla bean shake without the excess sugar. A highlight of the lunch experience!
Next up Hope Foods spicy avocado hummus on top of a whole wheat english muffin. Last but not least Simply 7 Quinoa curl chips.
Benefits:
Each of these choices was a major flavor experience without major calories. Koia drink, being plant based, helped with my guilt of not eating a salad for lunch. How can you go wrong with a hummus + avocado pairing? You can't! Then my first experience with a quinoa based chip: fun, crunchy and so tasty.
5. Dinner
Plan:
Take my favorite cheat day meal and attempt to make it healthy. It is pasta time.
Brand Choices:
There are many alternatives for pasta on the market, one choice that stood out is Banza chickpea pasta. Grilled up some chicken and mixed it all up with Vitacost Organic Italian Herb Pasta Sauce. After dinner relaxation was accompanied by a nice bag of Simply 7 parmesan cheese popcorn.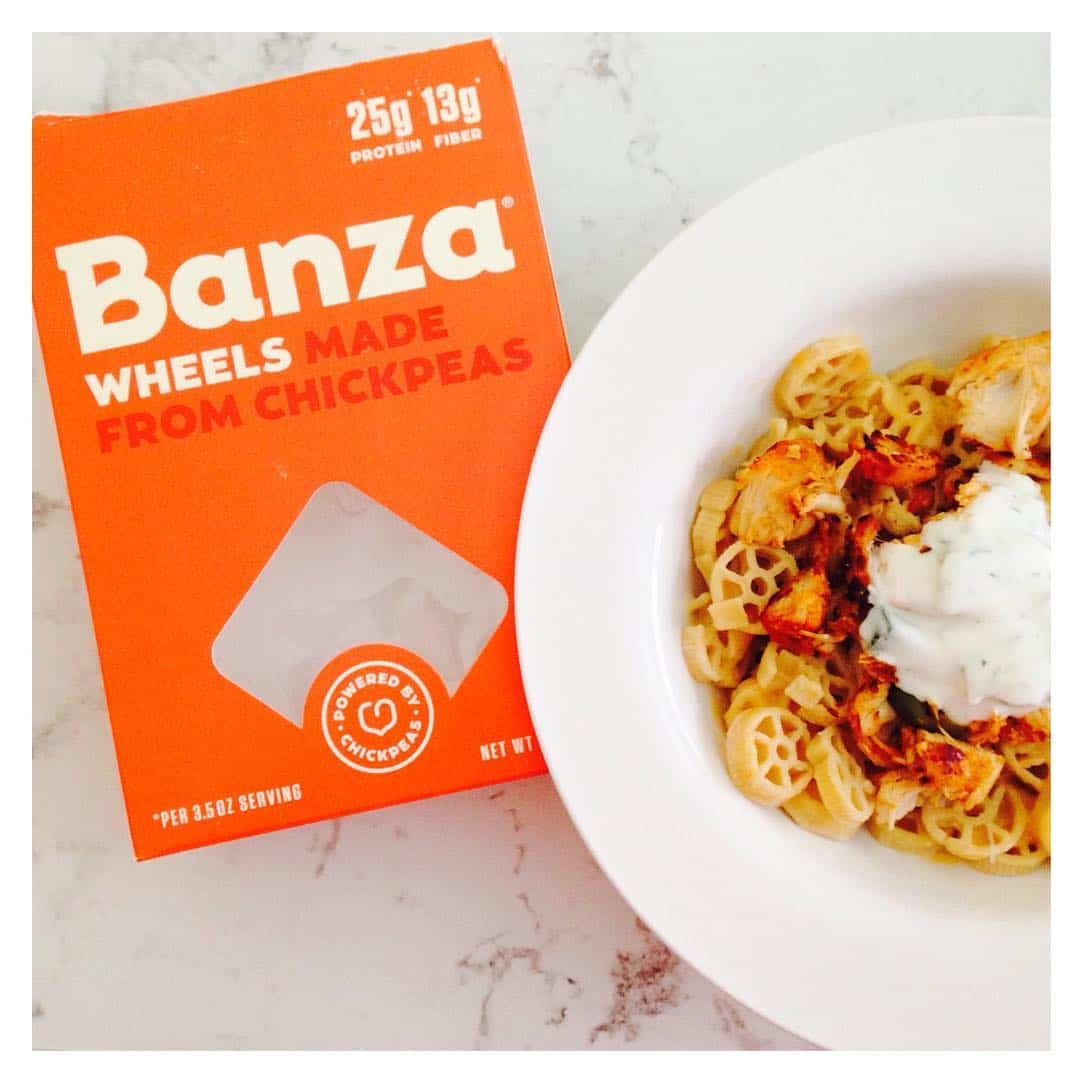 Benefits:
Banza was tasty and really filling, definitely couldn't go in for seconds, but a great addition for weekly meals. Score! Simply 7 snacks do not disappoint, so full of flavor. I can confidently say I didn't miss any sweet treats.
What did I learn from my day of eating as many healthy brands as possible? Firstly, I am glad I didn't have a post thanksgiving stuffed feeling. Instead the choices made came together to create a fun healthy a.m to p.m guide. It made me feel really motivated to get creative about healthy eating for the rest of the week. I encourage this splurge day as a way to mix it up and learn new food ideas.