Want to know one of the biggest beauty secrets? Beauty begins from within! Yes, what you put into your body directly influences your outer body shell.  So what is the best practice for feeling good and then subsequently looking good?  Providing your body with the proper nutrients is key to looking and feeling your best.  Beauty is not your #ootd or new lip color (pink all day!).  True beauty is a feeling of health.  Healthy inside, radiant outside.  We teamed up with our friends from Hum Nutrition to share their secrets about how we can level up our supplement routine to achieve healthy beauty.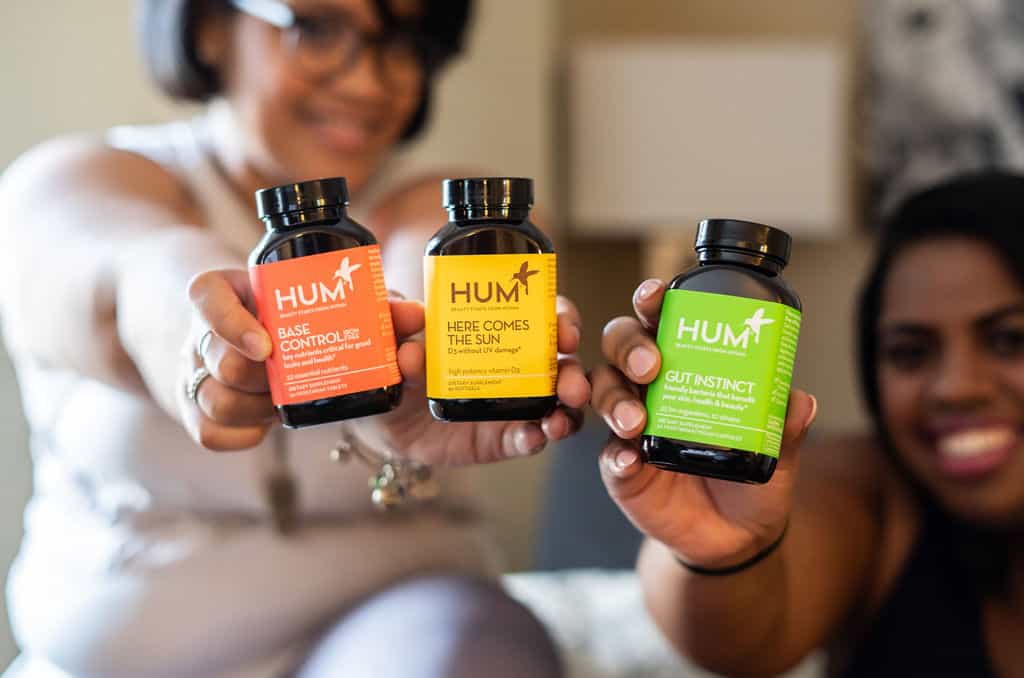 Isn't External Skin Care Enough?
Short answer: Not quite.
Our parents always taught us to eat our fruits and veggies. We reluctantly listened, thinking they were just trying to torture us. Little did we know, they were helping us keep our bodies healthy, but also our skin! Good skin care starts with proper nutrition, but what is also important is learning what vitamins provide benefits and additional support in our skincare. We can shop for the skin creams, cleansers, and toners all we like, but what we consume also plays a huge part in our skin care. Vitamin A, C, D3, and E are essential vitamins that help support us in a healthy skin care regimen. Creating a combination with your vitamins as well as your topical options that work best for you is key to building a healthy skin care regimen. The Positivity Charge Co-Founder, Parisha Smith, provided the following testimony about supplementing her skincare routine:
"In my recent discovery of Hum Nutrition Base Control and Here Comes The Sun, they quickly became a big part in my new skin routine. The Base Control has a total of 22 essential micro-nutrients that are combined for good looks and health! Here Comes The Sun delivers D3 without UV damage and supports the skin, mood, immune system, and calcium absorption!"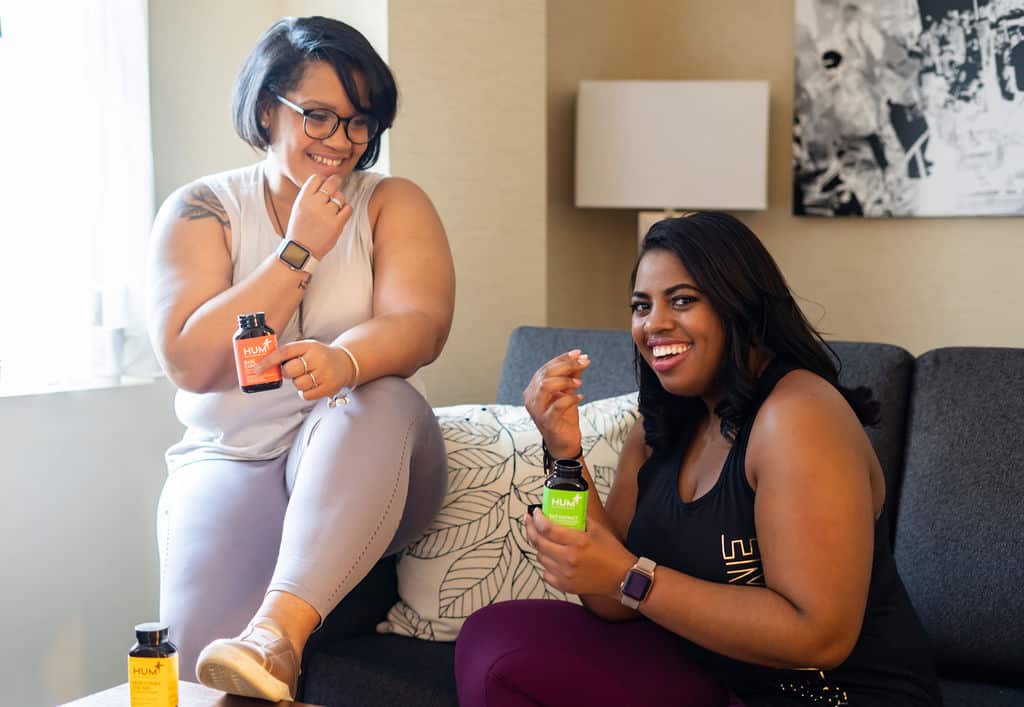 Varitety of Products is a BONUS
Hum Nutrition offers a variety of products that focus on beauty elements both individually and holistically. While many of the products contain a myriad of health-boosting ingredients, Hum makes it easy to know exactly what the products are boosting. For example, want glowing skin? Check out products such as Glow Sweet Glow which helps with skin hydration or Red Carpet which helps promote glowing skin AND shiny, fuller hair. Beauty starts from the inside, so make sure you're glowing from the inside out!
I Want to Glow! How Do I Choose Which Nutrients are Right for Me?
It depends on what areas you are looking to give a beauty boost! Luckily the Hum Nutrition website contains a quiz that will help pair you with a nutritionist to decide which products are right for you. Oh, and did we mention that the service is free?! The quiz asks simple questions about your current lifestyle in order to better match you with supplements that will help give you the nutrients that you may be lacking. When you receive the products, there is a nifty guide that tells you exactly how to take the product to receive the most benefit! For example, some nutrients are better absorbed when taken with food, while others you must take on an empty stomach. Hum takes away the guess work of when and how. When asked what she looks for in supplements, this is what Cierra Everette (TPC Senior Editor) had to say:
"Right now my biggest priorities are adding biotin and probiotics into my diet. My hair and nail health beauty are important to me, especially since I put them through the ringer with styling and dip powder use. I started using the Runway Ready packets and I love that it targets the health and beauty of my hair, nails, and skin! Gut health is also a big priority for me because of the many stomach issues that I have had in the past (I'll spare you the details). Gut Instinct contains probiotics that adds friendly bacteria into my system to help balance it out. Lastly I want to shout out the Raw Beauty Vanilla and Berry Powder. I cherish my Friday smoothies and I am always looking for a way to pack it with as many nutrients as possible. The Raw Beauty product is a green superfood powder that contains antioxidants, fiber, and probiotics to name just a few benefits. Plus it blends smoothly and tastes great in my Friday morning treat!"
Does Hum Nutrition Align with my Lifestyle?
This is, perhaps, the best part! Hum Nutrition's philosophy includes the creation of products with ingredients that are all sustainability sourced, non-GMO, and gluten-free! In addition, most of their products are plant-based, making them either vegetarian or vegan-friendly.
Adding the right supplements is a surefire way to kick your beauty routine up a notch. Because, after all, beauty starts from the inside out.  Healthy inside, radiant outside.  True beauty!
This post is sponsored by Hum Nutrition.
About The Author
Parisha Smith, co-founder of The Positivity Charge
As a passionate entrepreneur, healthcare professional, mom, and wife, Parisha Smith empowers those on the brink of change to live their most effervescent lives and to make self-care a priority.